Intelligent inside, dynamic outside. The Nokia N76 is a revolution in one-touch technology. Shoot high-resolution images, play thousands of songs, and connect instantly to the web - without ever opening your device. Search and surf with advanced web navigation. The Nokia N76 is the multimedia computer that lets you do it all - and with personal color options, tempered glass, and mirrored steel, you'll stand out doing it.
The quad-band N76 runs on the GSM 850/900/1800/1900 frequencies.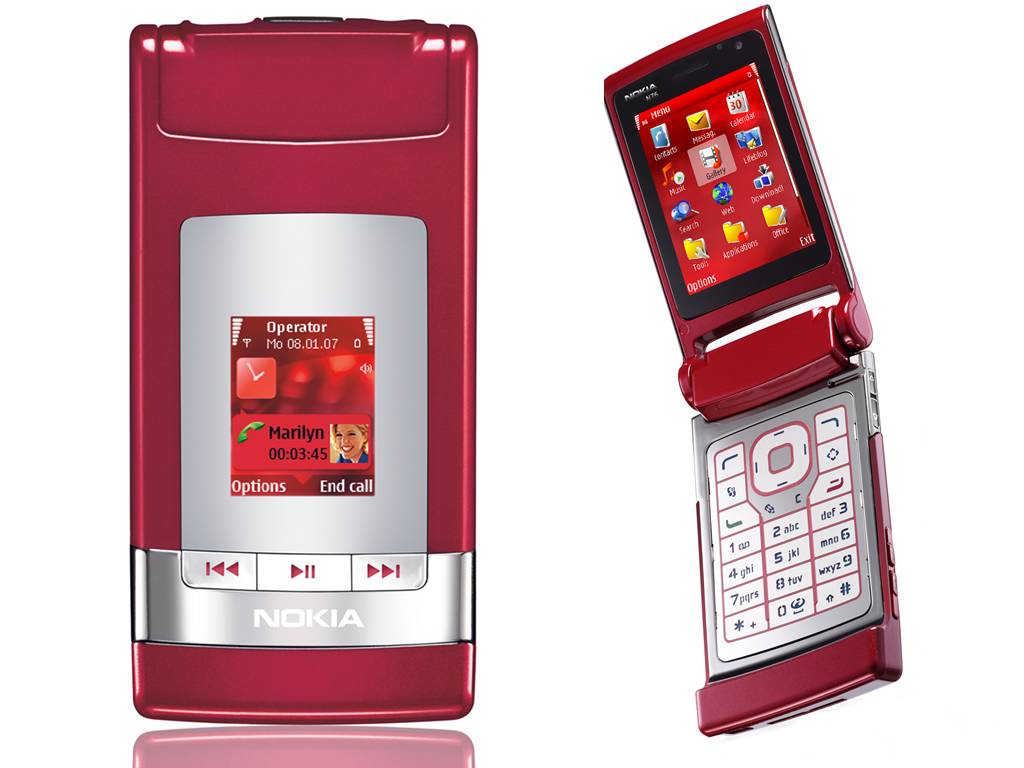 With the Nokia N76 multimedia cell phone, technology and design come together to merge your mobile entertainment and PDA needs. Offering quad-mode global connectivity and 3G (UMTS) bandwidth, the N76 enables you to shoot images with the 2.0-megapixel camera and send them directly to your Flickr online photostream. You can also upload images as well as videos to Twango. Take your multimedia on the go with the integrated RealPlayer, which enables you to download and stream both audio and video onto the N76. Other features include dual LCD screens, dedicated music playback buttons on the front of the clamshell, Bluetooth connectivity for communication headsets and stereo music streaming, and MicroSD memory expansion.
The N76 features a bright, 16 million-color screen, 3G connectivity, and easy multimedia playback.
This unlocked cell phone can be used with a GSM network service provider and it provides tri-band connectivity (900 MHz, 1800 MHz, 1900 MHz). When paired with a compatible 3G network that uses the 2100 MHz UMTS spectrum, you'll enjoy a variety of feature-rich wireless services with speeds up to 384 kbps--from data connectivity to your office to multimedia streaming. You can also take advantage of simultaneous voice and data services. In areas where the 3G network is not available, you'll continue to receive data service via EDGE network. It does not come with a SIM card, and it requires that you provide a SIM card for usage with your selected service provider.
Phone Features
The N76 is based on S60 software operating on the Symbian OS, enabling you to personalize the phone by choosing from a wide choice of compatible applications that can be downloaded--including games, navigation, entertainment, and productivity titles. It includes an internal 2.4-inch LCD with a 240 x 320-pixel resolution with support for 16 million colors as well as an external 160 x 128-pixel LCD with 256K color display.
The 2-megapixel camera can also capture video at up to QVGA quality (320 x 240 pixels) at up to 15 frames per second (fps). The still camera features a digital zoom up to 20x and integrated flash, and both still images and video can be editing directly within the N76. The digital audio player is compatible with a wide variety of formats (MP3, AAC, eAAC+, AAC+, WMA/M4A, Windows Media DRM). You can synchronize music with Windows Media Player 11 on your PC, and it's compatible with Nokia's Ovi Internet portal, where you can download songs from the Nokia Music Store and games from the N-Gage service. Other music features include a 5-band equalizer and playlist management. An FM radio with Visual Radio client complements the Nokia N76's complete music package.
Take your media with you when you're out on the go. With the built-in RealPlayer software, you can stream and download your favorite content onto the N76, giving you access to the latest news, sports, and entertainment updates. Or sync up with your PC and play the music and movies stored on your hard drive.
Designed with mobile photographers and bloggers in mind, the Nokia N76's Lifeblog feature lets you view, search, edit, and share your personal digital content with ease. Lifeblog's synchronizing software automatically pulls your media together into an easy-to-browse, searchable multimedia diary: SMS, MMS, images, videos, sounds, and text notes stay organized between the N76 and your PC.
View web pages as they were originally intended with the integrated Nokia Web Browser, which enables you to zoom out to a full screen view of the entire page using the Mini Map feature. Find the section you want and then zoom in to the content you need. The text instantly adjusts to the size of your screen. The browser also keeps a history of your browsing so you can quickly get back to where you started.
This phone provides Bluetooth version 2.0 wireless connectivity, and includes profiles for communication headset, handsfree car kits, and audio/video remote control. With the A2DP Bluetooth profile, you can stream your music to a pair of compatible Bluetooth stereo headphones. The N76 also allows you to easily send images to a compatible Bluetooth-enabled printer to print high-quality pictures.
Other features include:
Quick cover keys allow you to play music and snap pictures without opening your phone
Ambient light detector to optimize operating times
Up to 26 MB internal memory, expandable via MicroSD memory cards to 2 GB
Local and remote data synchronization of calendar, contacts, to-do lists, notes, Microsoft Outlook and Outlook Express, and Lotus using SyncML
Integrated handsfree speaker, voice recorder
PIM applications: Contacts, calendar, to-do list, notes, calculator, clock, and converter
Themes including wallpapers, screensavers, and ringtones
Vital Statistics
The N76 weighs 4.06 ounces and measures 4.19 x 2.05 x 0.54 inches. Its 700 mAh lithium-ion battery is rated at up to 2.8 hours of talk time, and up to 200 hours of digital standby time. It runs on the 850/900/1800/1900 GSM/GPRS/EDGE frequencies as well as the 2100 MHz 3G WCDMA frequency.